Customers who use Quiply:
Employee app: The revolution of your internal communication
With the Quiply employee app, everyone is finally reachable and informed in real time. Essential for non-desk-workers. This saves time and avoids misunderstandings. Quiply works on any (private) device. The employee app is both a communication tool and an HR instrument for digitizing processes. This saves resources - of course with the highest level of data protection according to the German DSGVO & Swiss DSG.
Reach everyone with the Quiply employee app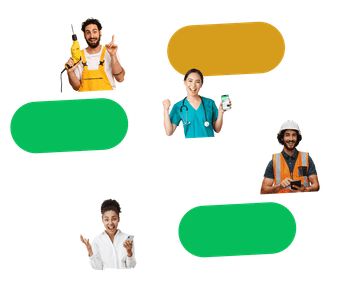 Truly reach everyone in real time without corporate email addresses and private phone numbers.
Your own contact partner at Quiply. Activation rates >90%. Convenient dashboard.
Sustainable communication
Better teamwork, better working atmosphere and motivation. This communication works!
Extras like create forms & surveys in seconds. Secure employee mailbox.
EU-GDPR & DSG compliant, data storage Germany. No surveillance.
Easy use. Lower costs. Integrations to Datev, Sharepoint & Co.
Reduce staff turnover with the Quiply employee app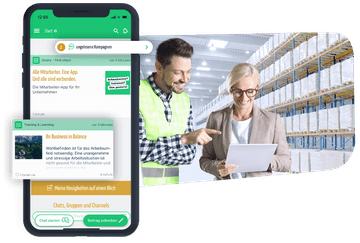 Quiply is modular and close to the customer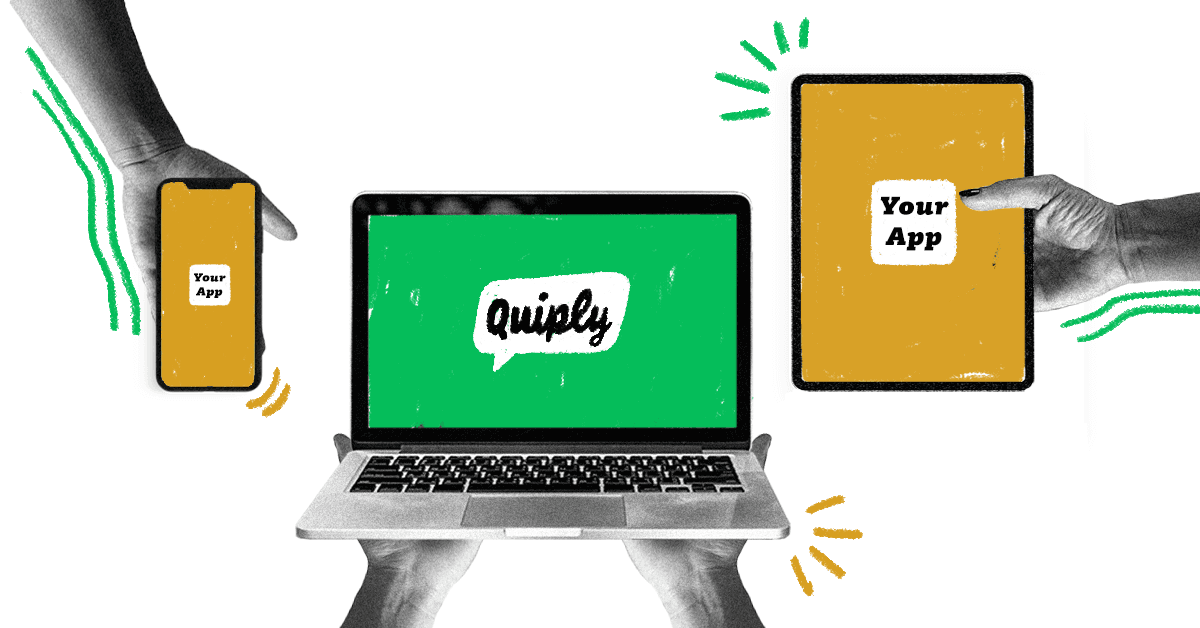 Secure and data protection compliant

This is how Quiply pays off
Employee-App features
Runs quickly and securely on all (private) end devices. Data storage in Germany. Access without a work Email-address or private phone number. Your own branding. Barrier-free according to BITV. Offline-capable. And many extras.

Use Channels to inform your entire organization. Create multimedia content in the blink of an eye. Select your target group smartly and inform them via push-notifications. The digital bulletin board says goodbye to paper, intranet and showcases! Social functions make the app a valuable feedback channel for management.

Here's to collaboration: Powerful 1:1 chats or group chats with voice messages, photos, videos, emojis, gifs, videos, quotes, calendars, and real-time translation in 112 languages. You can have instructions acknowledged with binding read receipt. Everything securely encrypted.

Life can be so simple: Vacation request, AU certificate, pool vehicle order or material procurement, you can do practically everything with forms & surveys within the App. Digitally rebuild your tried-and-tested processes with forms which are workflows with approval stages. You can design surveys just the way you like them, e.g. for pulse surveys - since everyone is involved, you can triple your participation rates.

Find and reach everyone directly. Use freely selectable profile fields for the fastest answer to "who knows and can do what in the company?". And finally, up-to-date phone numbers. Yeah!

For events, trainings and other appointments, we have appointment scheduling a la Doodle on board. The organization sends reminders to make events successful.

All functions are logically arranged. Easy to understand for all generations. And the interactive user guide "Marie" is happy to help you 24/7.

Dashboard with analysis and evaluations. Extensive user management. Smart groups with dynamic rights assignment. Practical maps. The employee mailbox Smart Docs. The powerful web app with editor. The search that also searches the contents of files. Quick links to websites & social sites. And much more for better internal communication!
The system

Channels

Chats

Forms & Surveys

Employee directory

Voting & Event Calendar

Intuitive use

And so much more!
Our Employee-App connects you
Questions and answers about the Quiply employee app
80% of all employees work remotely and have no access to the intranet. An employee app connects all employees of a company quickly and securely, regardless of location. With the help of employee apps, content can be sent as news feeds (channels), via individual or group chats in real time, and as push messages. With the document function, important documents such as maintenance procedures, duty rosters or work instructions are available at any time.
The Quiply app can be installed on all common smartphones, tablets or web-based on the desktop. Unlike private networks or chat services, Quiply is fully DSGVO-compliant with bank-safe encryption.

An app for employees helps reach everyone and increase employee motivation. By actively engaging the team with surveys, likes and comments, companies show appreciation. Lively internal communication actively strengthens the corporate culture and increases employee loyalty.
Definitely! With the app, you can reach all employees across departments and locations in real time, regardless of language. This reduces chatter, information is no longer lost, and supervisors are relieved. You can also use our app to digitize processes in your company. This improves not only the communication, but also saves time and money.
By establishing the app as the main information medium in your company. Information should be communicated in the app first so that the importance of using it is evident. Provide a lot of added value and interesting information within the app to increase the usage rate. Once employees see added value for themselves, they will happily use the app frequently. Employee loyalty and the sense of belonging to the company are automatically increased, as employees can understand the value chains in your company much better. And a tip that always works: Raffle something for the first persons who sign up.
The Quiply CSM team will be happy to support you with further ideas, personal advice and best practices to successfully implement the app in your company.
Yes, because all data stays within the cloud-based app and the employees have to accept the respective terms of use. You can create these terms of use with our help or individually. Due to the role-based access and role management via the admin functions, data can no longer be accessed and used if employees' access has been revoked, unlike with WhatsApp, for example - this means that sensitive data remains protected for everyone.