From the first day on always well connected.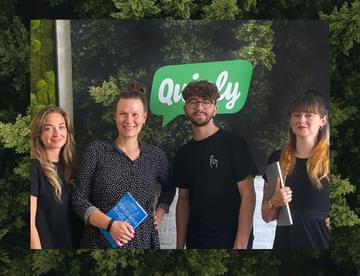 "We are the Customer Success team at Quiply and we make sure you always get the exceptional service you deserve. We personally advise from Cologne and are there when there are questions or challenges. Also, we listen when you want to give us valuable feedback on the app for the well-connected."

Our service is based on 4 pillars
"Initially, we also looked around and tested cheaper alternatives, but these options were confusing or you had to sacrifice too many features and service - so we decided to go with Quiply."

"From day one, Quiply has made communication much easier for us. And even after more than a year, we are still thrilled with the app and can highly recommend it. Plus: It's really great to see that customer feedback is taken seriously and that this is also implemented."

"Getting started actually worked very, very well. We had everything set up and then went live immediately. The Quiply support team was also always available, and the process went smoothly."

Always well advised and supported