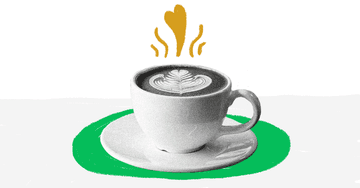 "The cost of an Employee-App? Just about as much as a latte macchiato at the monthly employee meeting. The added value: more motivation, connection and a better-informed team. Less legwork, real-time access anywhere. Easier and cheaper than an intranet. And lots of opportunities for surveys and process optimization. Quiply pays for itself from day 1 of implementation."
Immediately a customized offer
The philosophy: Only pay for what you need in your industry. No bundles & limitations, but completely modular offers. We make the best offer.

Quiply charges for usage per employee per month plus a one-time setup fee. Depending on the size of the company, execution and wishes, this fee is recalculated, because every industry and every customer is slightly different. The more we learn about the use case, desired features, integrations or customizations, the more accurately we can calculate. The desired payment condition like one-time payment can mean additional discounting.

Always on board with our App:
98.6% would choose Quiply again*.
Our references *Customer survey 2021
"Getting started actually worked very, very well. We had everything set up and then went live immediately. The Quiply support team was also always available, and the process went smoothly."

"From day one, Quiply has made communication much easier for us. And even after more than a year, we are still thrilled with the app and can highly recommend it. It's really great to see that customer feedback is taken seriously and that this is also implemented."

"Initially, we also looked around and tested cheaper alternatives, but these variants were confusing or you had to sacrifice too many features and real service - so we decided to go with Quiply."

Your questions, our answers
In any case, feel free to call us directly at +49 (0)221 975 815 10 . Or fill out the contact form here. We are looking forward to it!
Yes, Quiply's personal contact will support you in onboarding and daily operations. We support you in the setup of the system, the initial creation of the employees and the introduction in your company.
Yes, we offer various trainings. Usually the only necessary training is for the administrators, this is free of charge. Also free of charge is the interactive user guide "Marie", which offers tours of the app to all users - at any time of the day or night.
The usual minimum term is 12 months. However, the subscription can also be taken out for a longer period than 12 months and you can benefit from attractive discounts.
Absolutely! There are big differences to messengers for chats and Employee-Apps, which create internal communication like a social intranet. From our experience, groups of >20 people in messengers, as you might know from WhatsApp & Co, no longer make any sense at all in corporate communication - chaos, misunderstandings arise and the hierarchy of information is lost for everyone. We will be happy to advise you and a free test will help you to recognize the differences.
Very secure. All data is continuously encrypted on German servers and stored according to the strictest data protection regulations. Individual user security can be increased by password strength or white-listing. Virus and malware scanners are always included. More information about data security can be found on our security page.
Our offer makes the exact costs transparent. We argue the benefits in our cost-benefit calculation. There are many dimensions where money is saved with an app. It starts with less legwork, less paper and higher productivity.
On the one hand, you save money, on the other hand, internal communication has an effect on motivation and employee loyalty, thus increasing sales potential. With the individually weighed factors, there is a reliable basis for your calculation and the economic benefit of Quiply. Our consultants will be happy to support you in determining the benefits for your company.